Welcome to The Grand Chalet: Pleasure, Quality, Life.

We are NOW open for indoor dining!
Dining and take-out hours are:
Tuesday to Friday: 11:30 am to 9:30 pm
Saturday: 3:00 pm to 9:30 pm
Sunday: 3:00 pm to 9:00 pm

Please make a Reservation


Please View Our Specials Here
Takeout orders continue to be offered during these times.
Please place your order a minimum of 1 hour before you pick up (large orders will require more time); you will be able to pick a time-slot for pick-up.
Please keep in mind that when a time-slot is full, a new time-slot will be recommended.
Call 905-878-7934. Telephone orders only, please.



The Grand Chalet is a Family operated venue that offers exceptional professional service with delicious fresh quality authentic Italian food. Whether your planning your special wedding day, family function, corporate event or coming out to dine in our restaurant (Tony Spiducci's), here at the Grand Chalet we pride ourselves to make sure your event is special and unforgettable.
A complete hospitality facility with a warm and beautiful character, which caters to many special occasions from Social Events, Wedding Receptions, Wedding Hall Rentals, Wedding Rehearsal Dinners, Wedding Venues, Corporate Events including business seminar meetings. Situated on 1.5 acres of land with free ample parking for your guests.
Our facilities features two separate banquet rooms and a restaurant opened daily. We are known for our quality of fresh food and delicious taste along with our impeccable service. Authentic Italian foods are served in our restaurant Tony Spiducci's daily, showing you simplicity at its best.
With over 30 years in the hospitality industry we take pride in catering our events with authentic European cuisine giving you the quality of old style traditions.
Tony Spiducci Dessert Menu
Still Voted Miltons Best: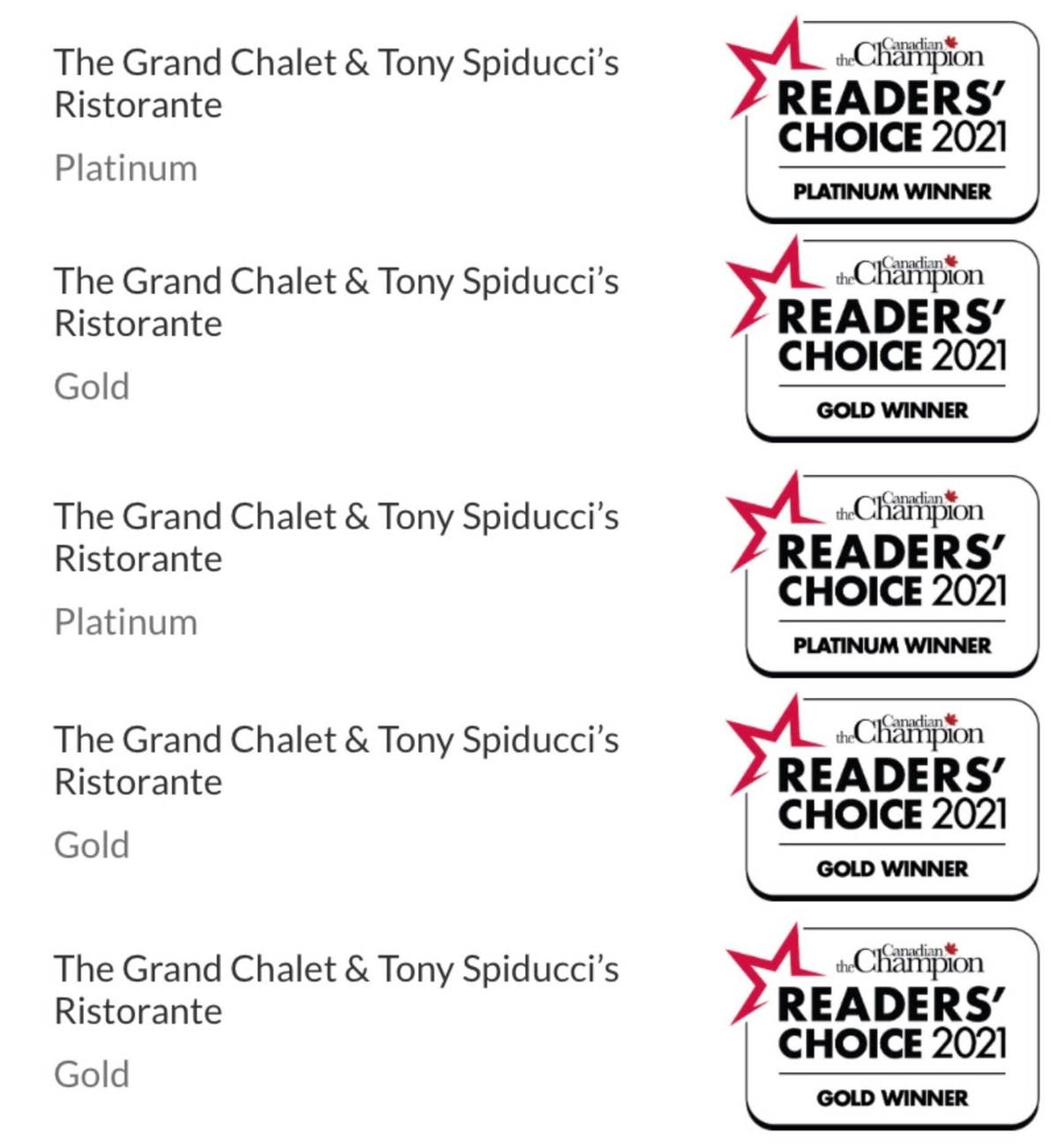 Thank you everyone that voted for us and thank you for your continuous support .

Platinum in Best Italian Restaurant

Gold in Best Family Restaurant

Platinum in Best Wedding Facility/Venue

Gold in Best Fine Dining Restaurant

Gold in Best Pasta